Gearend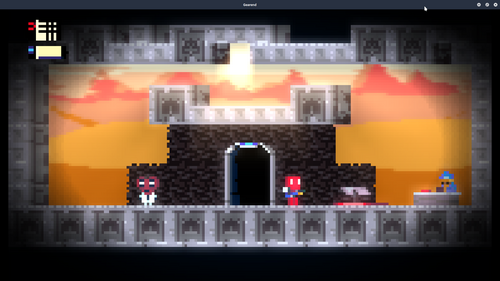 Hey, there!
First off, thank you very much for purchasing Gearend. It really does mean a lot to me, and I really do appreciate it. If you didn't, then... Welcome! This is a short little development log that I'm postin' up here logging my post-release progress. I've been reading all of your reports about the different bugs and issues that have arisen, and I'm working on dealing with them as best as I can. Here's what's included in the last update:
The water fragment shader SHOULD not crash the game anymore on certain GPUs. This is a bit iffy, since it didn't crash the game on my computer, but different GPUs handle shaders differently.
You can no longer accidentally skip Purifier or Drakon's boss fights.
There's a new Render Resolution option in the Options menu that allows you to adjust the resolution that the game renders to. If you have a weaker GPU, this can be very useful, particularly if you've noticed that changing the window size drastically impacted the game's framerate. Now that I'm looking at the picture above of this new feature, it's not actually possible to set the resolution that low, haha. Oh, well.
If you installed the game through the itch app, then it should automatically queue up the update, or give you the option to start the download, which is nifty.
As for the memory issues, I'm looking into them. I definitely see a couple of points that could be large improvements (to both use less memory, and handle it better), so we'll hopefully see very soon if this search turns up actual improvements.
In any case, thank you very much for reading this short lil' log, and for helpin' me out by purchasing and trying out the game. Thanks, again!
Files
gearend-linux64.zip
146 MB
gearend-windows.zip
133 MB
gearend-linux32.zip
149 MB
gearend-crossplatform.zip
88 MB