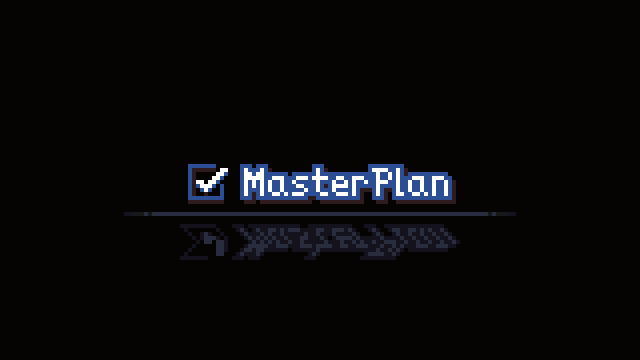 MasterPlan
A downloadable tool for Windows, macOS, and Linux
What is it?
MasterPlan is an easy-to-use graphical free-flow project management tool and idea board. You can make to-do lists, place images and GIFs, sounds, timers, lines, notes, and set deadlines for yourself.
You can tweak how it looks to your liking, too - MasterPlan includes a variety of themes, the ability to make your own custom themes, as well as different options to visualize your project.
The goal is to make it easier to plan stuff out, and give you some flexibility while doing so.

Why is it?
I started working on this tool because I needed a tool to plan projects, but found existing tools to be unsatisfactory. While usually high-quality and well-designed, I found existing tools have the following faults for individual usage:
They can be web-focused, possibly not even offering a local download.
They can be too complex.
They can be difficult (or impossible) to version control.
And so, I created MasterPlan to resolve these issues.
It is offline, first and foremost, with a focus on efficiency.
It is simple to use, only offering tools that individuals would generally use.
It is easy to version control as your project is a simple text file.
It's also cheap! Only a one-time purchase cost.
Unlike other project management tools, there is no underlying spatial limitations like with a Kanban board or a Gantt chart - it's up to you how you wish to physically position objects to design your plan to be both visually-pleasing and easy to grok.

MasterPlan is currently in early access, and is receiving regular, steady updates that improve the functionality and usability of the program. These updates are lifetime updates and will remain free of charge for those who purchase MasterPlan. The cost of MasterPlan may rise as it becomes more and more feature-complete, naturally.
How is it?
Good!
HOWEVER! MasterPlan is currently in its early access phase, and will receive updates regularly over time improving the stability of the program. I would recommend saving often and using it with a version control system to make it possible to roll back your plan in case of mistakes.
Also note that only 64-bit builds are available currently; if there is a demand for 32-bit builds, please let me know and I'll see about building and maintaining them. If you're feeling hacky or frugal, the complete source code for MasterPlan is available for perusal, building, and contribution on its GitHub repository here.

Steam?
I will be uploading MasterPlan to Steam later on, as well, and if you purchase it here, you will be entitled to a free Steam key for it from here then.
____
Recommended system requirements
Recent versions of Windows (>= 7), Mac (>= 10.12), Linux (>= Ubuntu 18.04)
OpenGL 3.3-capable graphics card
A sound card
For the clipboard to work on Linux, a clipboard tool needs to be installed, like xsel, xclip, wl-clipboard
Purchase
In order to download this tool you must purchase it at or above the minimum price of $15 USD. You will get access to the following files:
masterplan/masterplan-linux.zip
6 MB
masterplan/masterplan-mac.zip
8 MB
masterplan/masterplan-windows.zip
6 MB