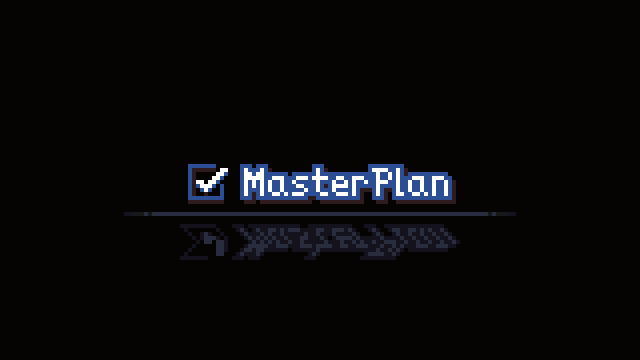 MasterPlan
A downloadable tool for Windows, macOS, and Linux
P l a n Y o u r W a y .
The best creations come from the best plans. To make the best plans easily, MasterPlan is there for you.

At its core, MasterPlan is a simple and innovative visual ideaboard and project management tool. It serves to simplify and streamline the planning process for creative endeavors. By giving you the tools you need to storyboard, plot, and actually see your project in its planning phase, it gives you the highest chance of actually completing it.
Need timers to keep yourself from whittling away hours on social media? MasterPlan is there for you. Need a place to consolidate image references? You can do that with MasterPlan, too. In MasterPlan, your project is customizeable and freeform, allowing you to set it up as you need, while still staying rigid enough to provide structure to your planning process.
MasterPlan includes:
Automatic to-do lists
Timers
Image, GIF, and sound support
Maps
User-customizeable themes
A suite of customization options
... and all on a freeform grid, enabling you to nearly-infinitely structure your plan in a way that works for your mind, specifically. In addition, projects are saved as plain, human-readable JSON files, ensuring compatibility with version control systems like Git or SVN.
The goal of MasterPlan is to make it easy to plan out ideas, and to give you flexibility while doing so. Before you open your game engine, word processor, or art editor, open MasterPlan and plan it all out.
MasterPlan is currently in early access, and is receiving regular, steady updates that improve the functionality and usability of the program. These updates are lifetime updates and will remain free of charge for those who purchase MasterPlan. The cost of MasterPlan will rise as it becomes more and more feature-complete.
Note that the free demo of MasterPlan showcases its full functionality, but lacks the ability to save projects.
How is it?
Good!
HOWEVER! MasterPlan is currently in its early access phase. I would recommend saving often to make it possible to roll back your plan in case of mistakes.
If you're feeling hacky or frugal, the complete source code for MasterPlan is available for perusal, building, and contribution on its GitHub repository here.

Steam?
MasterPlan is now available on Steam, as well. If you purchase MasterPlan here, you are also entitled to a free Steam key, accessible from the project download page.
____
v0.8 Alpha recommended system requirements
Recent 64-bit versions of Windows (>= 7), Mac (>= 10.14, no M1 support yet), or Linux (updated rolling-release or recent LTS distro like Ubuntu 20.04 + SDL graphics libraries)
OpenGL 3.3-capable graphics card
A sound card
For clipboard support on Linux, MasterPlan requires an X11 dev package be installed (libx11-dev, xorg-dev, or lix11-devel).
Purchase
In order to download this tool you must purchase it at or above the minimum price of $20 USD. Your purchase comes with a Steam key. You will get access to the following files:
masterplan-linux-release-old(v0.7).zip
6 MB
masterplan-linux-0.8-release-64.zip
5 MB
masterplan-macos-0.8-release-64.zip
5 MB
masterplan-windows-0.8-release-64.zip
18 MB
masterplan-mac-release-old(v0.7).zip
8 MB
masterplan-windows-release-old(v0.7).zip
7 MB
Download demo