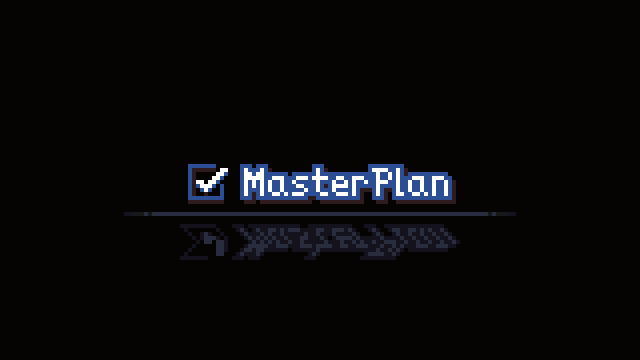 MasterPlan
v0.6.1-3 - Steam Early Access Release!
---
MasterPlan is now available on Steam Early Access! Huzzah!
If you've purchased MasterPlan here, you should have access to a Steam Key automatically. To claim it, click on the Download button for MasterPlan in your library. It'll take you to a page that has a button you can click to claim your Steam Key. You can also get there from the download link in the email that was sent to you when you initially purchased MasterPlan.

_____
Also, this is a bit late, but I've updated MasterPlan a few times to v0.6.1-3, landing with some nice hotfixes. I'll run through the changes here really quickly:
Updating tutorial text.
Note icon is slightly more readable. Clock icon is less flat.
Patterns have been changed to be more readable.
Adding small icons for example in tutorial.
Fixing note and outline color being the same for Event Horizon theme.
MasterPlan now opens the tutorial on first launch (whenever the program settings doesn't exist, which should be sensible).
The framerate when MasterPlan is unfocused is set to 60 by default (again).
Task selection improvements - selecting Tasks that are in a strict direction from another Task now works much more reliably, at the cost of being less "fuzzy" (so you can't select a Task that is slightly below and to the right of another Task using the right arrow key anymore, for example).
To remedy this, I am also adding shortcuts to select nearby Tasks. These shortcuts should fairly reliably allow for selecting Tasks nearby the currently selected one, moving in a roughly cyclical manner (from top to bottom, and from left to right). By default, these are tab and shift+tab.
FIX: Home and End behavior changed for Textboxes. Home and End now jump to start and end of current line, rather than start or end of the entire Textbox, as per standard text editor behavior.
Removing itch / Steam forums options; you know where you bought it from and I don't want to maintain two builds of MasterPlan if I don't gotta.
Removing Steam purchase option from demo (as the demo's only on itch for now, so it doesn't make much sense to add a Steam purchase option).
FIX: Spinner expanding up kicks panel down. This should also fix the Spinner expanding the panel by too much, and regardless of if it's necessary (because the panel is already expanded enough).
FIX: Textboxes were previously shared between copied Tasks. This is now fixed.
FIX: MasterPlan crashing on start when creating a brand new project. This is also now fixed.
___

That's basically it; I just wanted to let you all know.
Thanks so much for accompanying me on this little trip, and I hope to continue to make MasterPlan better and better as time passes.
Regards, SolarLune
Files
masterplan-linux-demo.zip
6 MB
masterplan-linux-release-old(v0.7).zip
6 MB
masterplan-mac-demo.zip
8 MB
masterplan-mac-release-old(v0.7).zip
8 MB
masterplan-windows-demo.zip
7 MB
masterplan-windows-release-old(v0.7).zip
7 MB